Meeting on Thursday January 18 – Election of Officers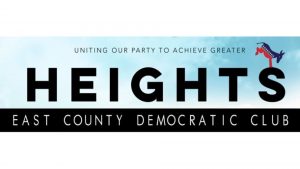 Meeting will be held at:
1333 E Madison Ave, El Cajon, CA 92021
January 18, 2018
7pm Meeting start
The first part of the meeting will be convened by John Loughlin, Director of Clubs for the San Diego County Democratic Party, and will follow SDCDP rules.
Call the meeting to order
Pledge of allegiance
Approval of agenda
Introduction of Chair of the San Diego County Democratic Party, Vice Chairs and overview of the election portion of the meeting
Election of officers for President, Vice Presidents, Secretary, and Treasurer
Call for nominations from the floor
For any contested positions:
The candidates will get 2 minutes each to introduce themselves
Questions from the audience will be answered by each candidate (alternating who goes first)
Each candidate will then make a closing statement, after which they'll leave the room
While the candidates are out of the room there will be a discussion with 3 people to speak for, and 3 people against, each candidate for 1 minute each, with no personal attacks allowed on any of the candidates
The vote will then be called
Adjourn the business part of the meeting
The second part of the meeting will be run by the elected officers. Speakers, candidates and elected officials to be announced.
At the February meeting the club will vote on new Bylaws for re-chartering with the SDCDP.