Meeting on Thursday February 15 – GENEVIÉVE JONES-WRIGHT – Vote on New Bylaws
Meeting will be held at:
Jimmy's Family Restaurant
9635 Mission Gorge Rd, Santee, CA 92071
February 15, 2018
7pm Meeting start
The first part of the meeting will be convened by John Loughlin, Director of Clubs for the San Diego County Democratic Party, and will follow SDCDP rules.
Call the meeting to order
Pledge of allegiance
Approval of agenda
Introduction of Chair of the San Diego County Democratic Party, Vice Chairs and overview of the Bylaws discussion
Review, amending and approving the Bylaws for re-chartering with the SDCDP
Adjourn the business part of the meeting
A draft of the new bylaws (PDF) can be downloaded here for review. Paper copies will be available at the meeting.
---
Featured Speaker – candidate for San Diego District Attorney:
Geneviéve wasn't able to make the meeting, but she sent this video for members.
GENEVIÉVE JONES-WRIGHT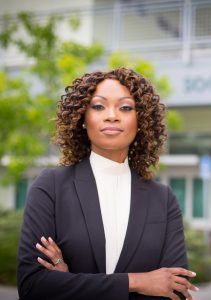 "Be the change you want to see in the world."
In the fourth grade Geneviéve Jones-Wright decided to follow in the steps of Justice Thurgood Marshall and become a "social engineer." That decision included attending Howard Law and receiving the same training he did. Although no one in her family had graduated from college before, she made up her mind at the age of nine to become an attorney and use the law to help those who are vulnerable and oppressed. This desire led her to work within our criminal justice system.
A native San Diegan, Jones-Wright has served the County of San Diego as a Deputy Public Defender since 2006. In this capacity, she has represented clients charged with a variety of crimes and has spent over a decade experiencing the strengths and pitfalls of the criminal justice system. Her advocacy skills, passion, and sense of fairness have garnered her a reputation of an exceptional attorney and community leader.
Beyond the courtroom, Jones-Wright serves on the City of San Diego's Commission on Gang Prevention and Intervention where she chairs the ad-hoc gang documentation committee. She is a volunteer attorney for the California Innocence Project and is an appointed member of the State Bar of California's Council on Access and Fairness.
Jones-Wright is very active in the San Diego community at-large. She currently serves on the Board of Directors for the David's Harp Foundation, a local nonprofit that transforms the lives of "at-risk" and homeless youth through the power of music. She is a Mock Trial Team coach and a member of the Criminal Justice Program advisory board at Lincoln High School. In 2003, Geneviéve co-founded and served on the Board of Directors of ELITE (Educated Ladies Investing in Tomorrow's Exemplars), a local program that prepared young girls for college.
Jones-Wright earned a Bachelor of Arts in Mass Media Communication from the University of San Francisco, a Juris Doctorate from Howard University School of Law, and a Master of Laws in Trial Advocacy from California Western School of Law.
Jones-Wright and her husband, Oliver, an active duty Hospital Corpsman with the United States Navy, live in the Encanto neighborhood of San Diego with their dog, Mellie.