Democratic Congressional Town Hall – Friday May 6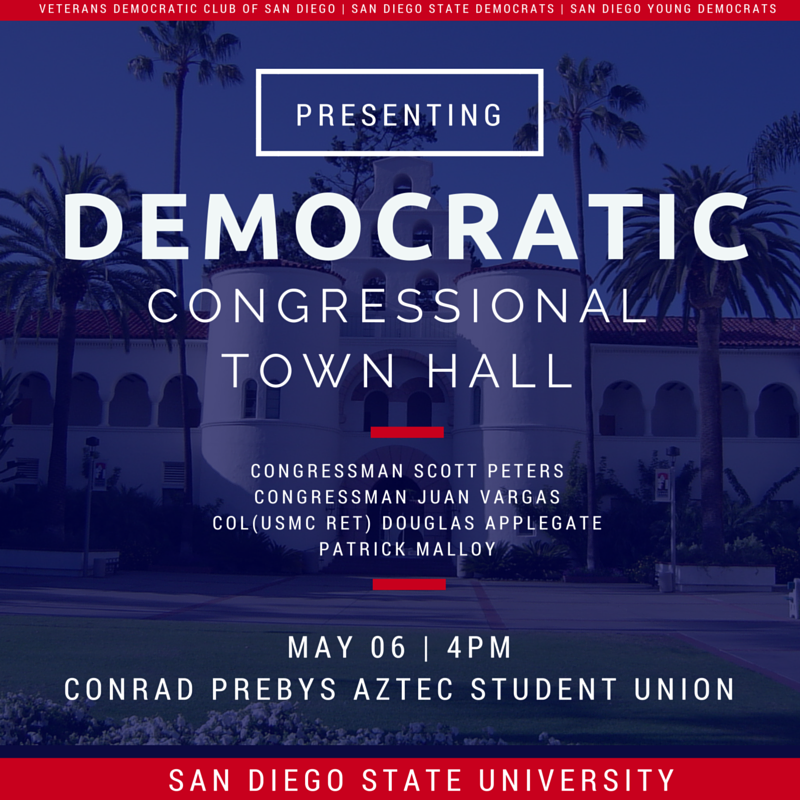 Congressional Town Hall on May 6th, 2016 from 4-6pm at SDSU Conrad Prebys AZTEC Student Union. Included in the attachment is also the expected timeline for the event. Positions were based on electeds/candidate and then a coin flip.
We are also finalizing our slate of information for your offices in order to facilitate the best conversation possible. We will have our topics to you this week.
Timeline of Events:
4:00pm – 4:25pm: Reception with refreshments
4:25pm – 4:30pm: Opening comment and National Anthem
4:30pm – 4:55pm: Congressman Scott Peters (CA-52)
4:55pm – 5:20pm: Congressman Juan Vargas (CA-51)
5:20pm – 5:40pm: Col. (ret) Douglas Applegate (CA-49)
5:40pm – 6:00pm: Patrick Malloy (CA-50)
UT is running a story both before and after the event. Our goal is to focus and highlight issues important to the Veteran and Collegiate communities while providing another platform to uplift/highlight your campaigns and reach potential voters.
Date: May 6, 2016
Location: SDSU, Conrad Prebys AZTEC Student Union
Time: 4:00pm – 6:00pm
Host: Veterans Democratic Club – SDSU Democrats – San Diego County Young Dems
Format: Town Hall – Dialog about Veterans and Collegiate Issues
Moderators: Matthew Rice – President, Veterans Democratic Club
Zach Bunshaft – President, San Diego State University Democrats
Opening: Candidate will be allocated two minutes for an opening statement.
Questions and Answer: Congressman 20 minutes. Congressional Candidates: 15 minutes
Discussion: A controlled narrative. Public has submitted questions and/or concerns they
would like to be addressed specific to veterans and collegiate issues. The represented host
clubs have chosen specific questions and moderators will use them to have a discussion with the candidates.
There will be no open questions asked directly to candidates from the public.
Closing: Candidate will be allocated two minutes for a closing statement.
Timers: No timers will be used.